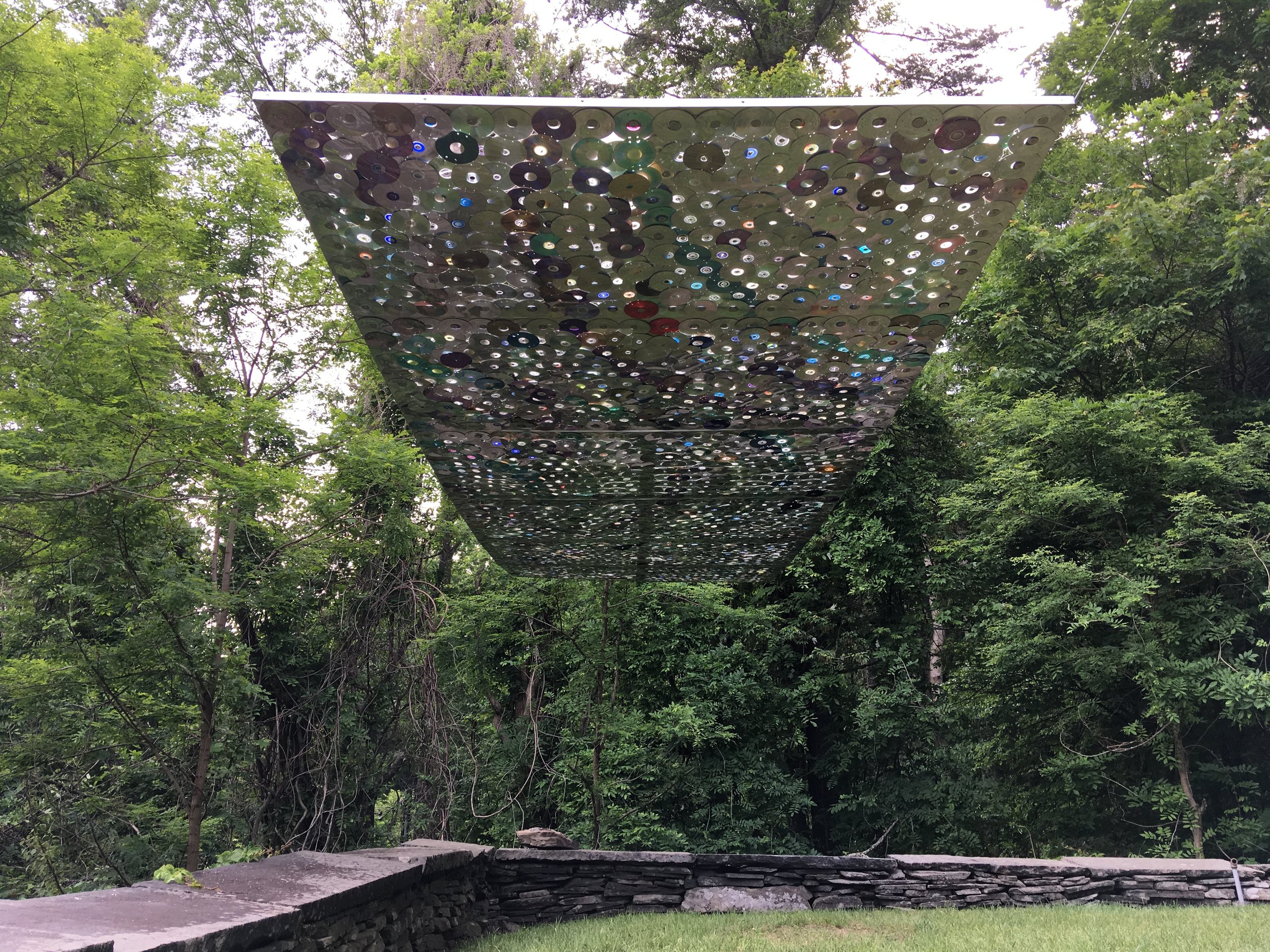 Lift, 2019
Woodstock Byrdcliffe Guild, located in Woodstock, NY
Donated CD and DVD discs, Monofilament, Cable ties, Aluminum, Stainless steel cable, and hardware.
Dimensions: 7ft x 21ft
Suspended by cable, this installation hovers above the stone wall as if a ceiling to a room in the woods. The colors of CDs and DVDs curve and spiral above head, but the mosaic ceiling almost disappears when viewed from the side.
This project was supported by a grant from the Texas A&M University - Corpus Christi Division of Research and Innovation.
Pop Goes the Weasel, 2017
Installed at the Franconia Sculpture Park, Minnesota
Chain-link fencing, chain, steel, hardware, and paint.
Dimensions: 6ft 6in H x 12ft W x 12 ft D
A brief statement about the work:
In my artwork, I utilize recognizable and seemingly neutral commonplace objects that invite audiences to name, compare, and participate in theatrical re-arbitrations of value. Reminiscent of a Jack-in-the-box toy, the turnstile in the center appears to be winding up the chains and thus adding tension to the fence. The fence, in turn, attempts to fulfill its role in maintaining boundaries and restricting movement; but the impasse between fence and turnstile results in a distorted stasis that suggests the unsustainability of the tense situation.
By using chain-link fencing, the audience is placed outside this small yard and can witness the effect of the turnstile on the fence. Can a Jack-in-the-box go backwards? Can the box be removed? How can this tug-of-war be resolved?
Crank, crank, crank
Turn, turn, turn
Just a little more
Watch and discern.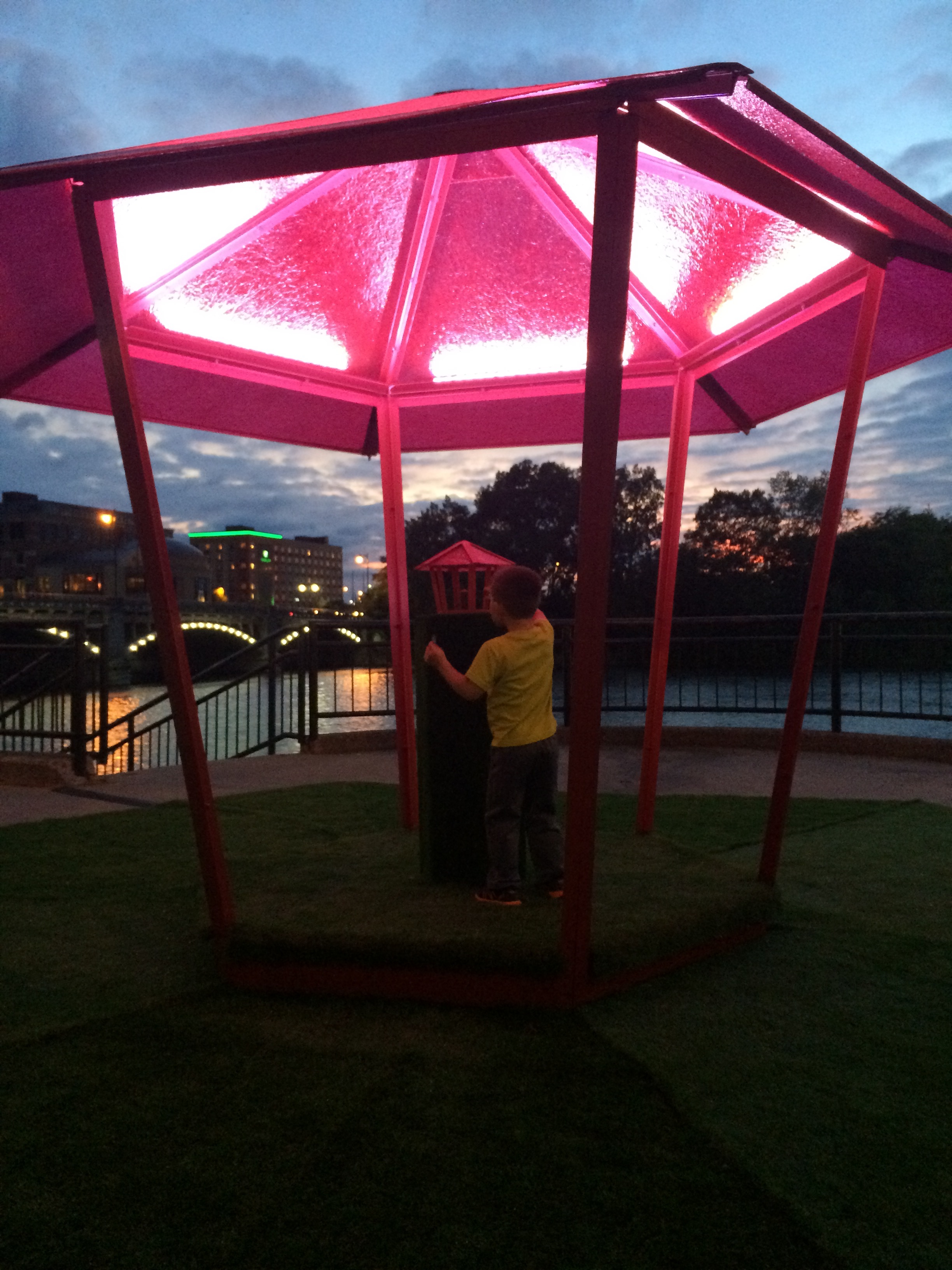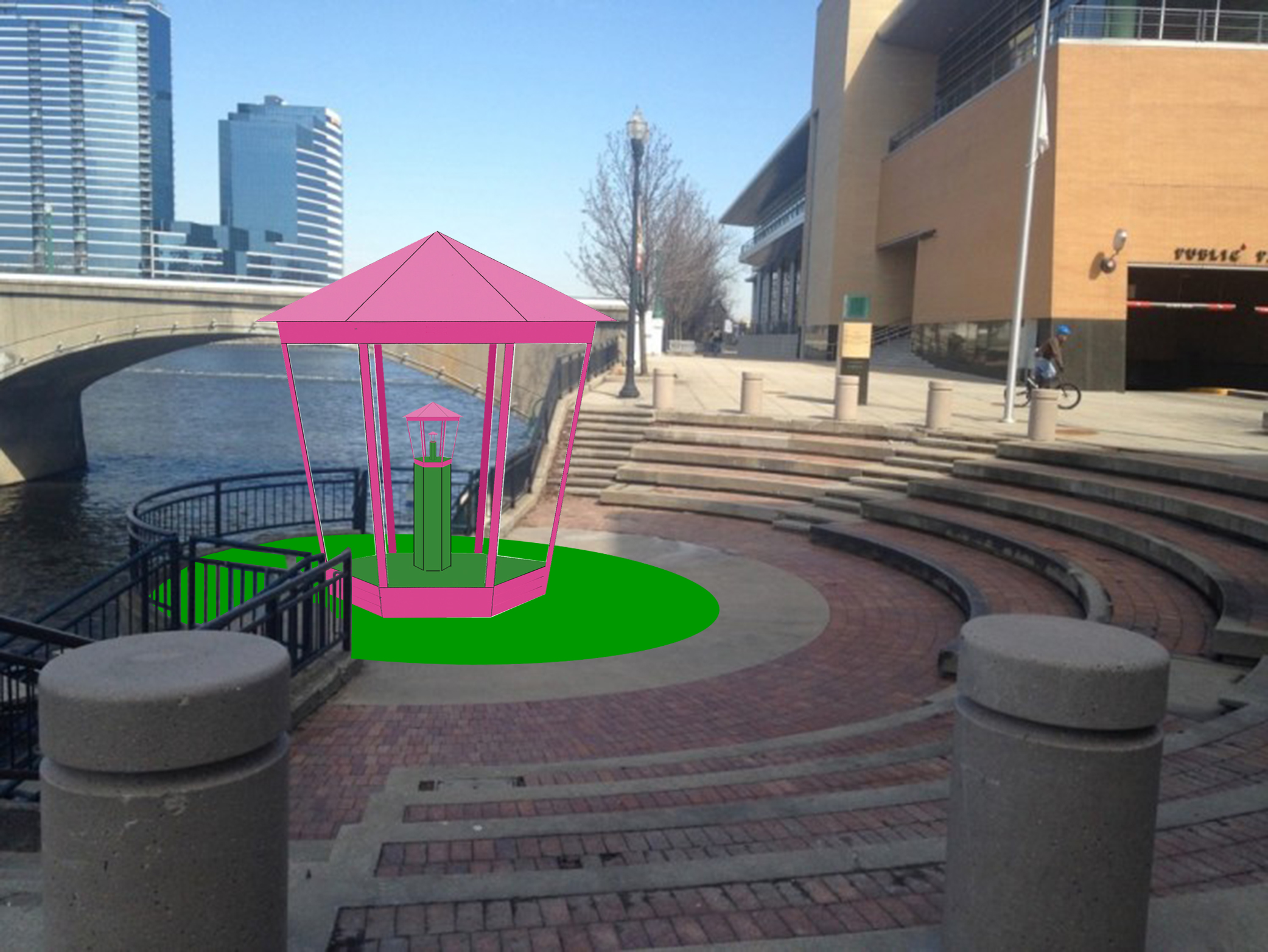 Gaze-bo(ught), 2016
This sculpture is a gazebo in a gazebo in a gazebo. Each gazebo form is shaped like a gem and painted a saturated pink. The roof is made of pink resin panels that become a rose colored lens. When underneath, one is then bathed in pink light.The interior of the sculpture and surrounding ground is covered in thick artificial grass, which is always the perfect green and never needs to be mowed.
Canopies: Groin Vaults and Chain-link Fencing, 2011
Installed at YouthBuild in Louisville, Kentucky
Galvanized steel, chain-link fencing, concrete, and hardware
Commissioned by the Louisville Visual Arts Association (LVAA) for the site of the YouthBuild program in Louisville, a new outdoor sculpture was created and installed in 2011. This project was jointly funded by the Norton Foundation, LVAA, YouthBuild, and Hanover College.
YouthBuild is a national community development and education program that addresses issues facing low-income communities. This permanent addition to the Louisville YouthBuild program utilizes a material known for dividing and separating: chain-link fencing. By incorporating the chain-link into the ceilings of groin vaults, the fencing gains a new purpose by providing the structure for vertical raised gardens and shady canopies during the summer.
Bottle Shock, 2010
Installed at the Forecastle music festival, Louisville, Kentucky
Community collected plastic bottles, Monofilament, Cable ties, Wire fencing, Steel, and Artificial grass
Forecastle organizers have commissioned three artists to create pieces for Waterfront Park in Louisville, Kentucky. "The goal of Forecastle is to establish a cultural entertainment medium ~ Music.Art.Activism® ~ equally showcased in a scenic, outdoor environment. Merging entertainment with education, Forecastle unites the creative and activism communities of the Midwest, while building a new festival model in the United States."
For Forecastle, plastic bottles from individuals, local corporations, University of Louisville, and Hanover College were collectedto create a large-scale sculpture. The piece arched over viewers as they walked along one of the main sidewalks on the Great Lawn of Waterfront Park in downtown Louisville. Entitled Bottle Shock, the sculpture engaged festival goers in a conversation about plastic and consumption.

Elizabeth Kramer, Forecastle Fest Announces Artists to Create New Works, National Public Radio WFPL, Louisville, Kentucky, February 18, 2010, 4:00 pm.
Brew History: All Bottled Up, 2010
installed for the New Albany Bicentennial Public Art Project, New Albany, Indiana
Community collected beer bottles, labels, steel, wood, Plexiglas, fiberglass, Styrofoam, paint, motion sensors, solar powered lights, and hardware
The New Albany Bicentennial Public Art Project was a multi-year outdoor exhibition of outdoor sculptures that will interpret New Albany's rich history and heritage. This originated from a partnership between the Carnegie Center for Art and History and the New Albany Urban Enterprise Association. Beginning in the spring of 2010, five temporary sculptures were installed in highly visible locations in the downtown historic district. Each subsequent year, new sculptures were selected and unveiled, culminating in 2013 with New Albany's Bicentennial Commemoration.
My sculpture for the Bicentennial Public Art Project, Brew History: All Bottled Up, focused on the history of taverns and breweries in New Albany dates back to 1830 with stories of homespun attitudes and community support. In recognition of this beer chronicle, the primary material in this sculpture is locally collected, used beer bottles. Furthermore, influenced by several sources such as the Lite-Brite toy, the song "99 Bottles of Beer," and Tom Marioni's social sculpture from 1970 titled The Act of Drinking Beer with Friends is the Highest Form of Art, in Brew History: All Bottled Up, I combined dissimilar, pop-culture materials and forms while playfully linking past and present.
Brew History: All Bottled Up, was included in a book titled Sculpture and Design with Recycled Glass, by Cindy Ann Coldiron, Schiffer Publishing, October 2011.
Migration Station, 2010
Installed at Bernheim Arboretum and Research Forest, Clermont, KY
PVC pipe, artificial flowers, wood, plexiglass, steel, concrete, and hardware
Model Homes and Habitats, a contemporary art exhibit focused on wildlife welfare, featuring regional and national contemporary artist designed birdhouses. A White Noise Project, this group exhibition of Model Homes and Habitats provided a genuine look at how we might better integrate and coexist with animals in the community around us.

For Migration Station, I combined artificial roses, leaves, and grass with sewer pipes to make a luxury high-rise that points to nature like a road sign while only offering potential tenets an isolated, plastic habitat.
Forces of Nature: Hurricanes and Slinkys, 2007
Installed at Georgetown College, Georgetown, Kentucky
Steel, irrigation tubing, cable ties, paint, and artificial grass
This outdoor version of forces of nature: hurricanes and slinkys, was designed for in the Live, Learn, Believe outdoor exhibition, Georgetown College, Georgetown, Kentucky. Inspired by diagrams of hurricane development and the "wonderful toy" the slinky, the inexpensive Slinky seems so simple, but the physics of the spring and theories of Hooke's law visualize the limits of stress that can be endured before it cannot be corrected when the stress is removed. This outdoor sculpture combines these two visuals with a peaceful, but artificial, grassy eye of the storm.
Islands, Yards, Worlds, 2004
Installed at the Franconia Sculpture Park, Shafer, Minnesota
Wood, concrete, paint, plastic, and audio
Designed in response to the game of tennis and the beginning of the war in Iraq, this sculpture focuses on the boundaries and divisions between two identical sides. Each fence in this sculpture was sixty-feet long. Starting at six-feet high, the top level of the fence remained horizontal while bottom was cut to fit the hill. The result was a bridge that as one ascended the fence shortened allowing one to see the other sides of the fence. At the center was a concrete table with a game of checkers in play; however, this checkers game has all grey game pieces making it difficult to know who is winning. Lastly, while at the table, an audio can be heard from the fences playing the sound of a tennis match as the ball bounces back and forth over the net.